Penny Leach comes home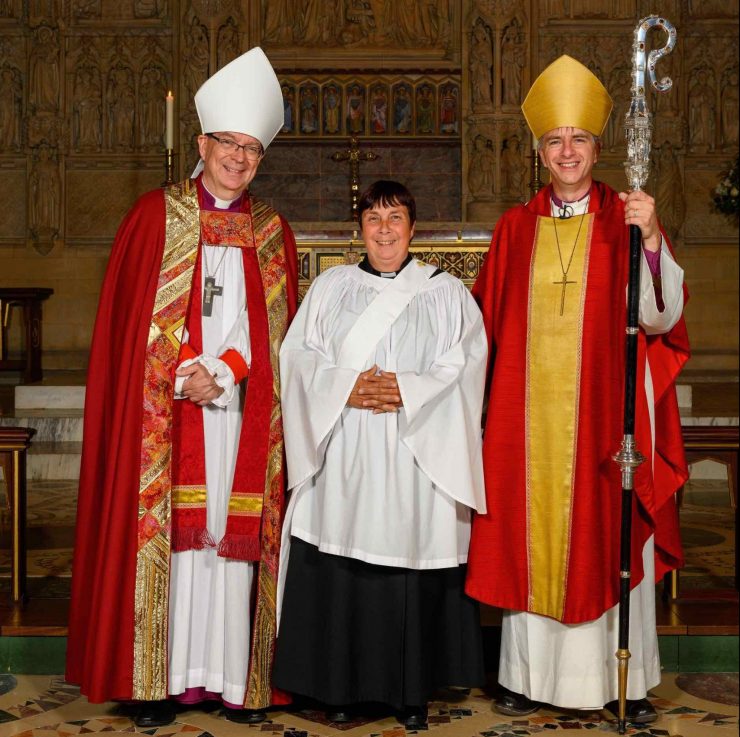 When Penny Leach was ordained in June 2022 as curate for the benefice of St Just in Roseland and St Mawes, she cemented a lifetime of love for the Roseland and its people.
Penny spent every childhood holiday in St Mawes. Her grandparents lived there, then her parents joined them, then her brothers and now Penny. "I used to play as a child with the woman who lives opposite from me!"
This has really helped with her journey to ordination. "It's opened up great opportunities for questions. People know me as Penny, albeit sometimes Penny, sister to one of my brothers! So, it's quite a thing for this person they know to make this transition. That's helped with the bigger questions – why is there so much suffering? Where is God when tragedy becomes very personal?"
The still small voice that first encouraged Penny to lead in church
Penny had felt the pull towards leading a church from an early age. Her father and brothers were in the church choir. It was while helping her father one day that she heard something a little like a voice in her head tell her one day she would be behind the table. "It was very clear but also confusing. At that time women weren't allowed anywhere near formal ministry. We couldn't even read the Lesson!" Her response was to join a very active ecumenical group of performers. For the next twenty years, alongside her daytime job as law lecturer, Penny toured Christian festivals and parish weekends. Writing, performing and having a wonderful time.
"It was very clear but also confusing. At that time women weren't allowed anywhere near formal ministry," says Penny Leach.
The pull to serve and the many ways to answer…
As the family grew and still working as a lecturer, Penny offered more to her local church. She still sensed that call to serve and assist in so many different ways. Administratively, with children, youth work and home groups. Then retirement beckoned and with it, more opportunities to serve. As a churchwarden, Penny undertook a major building project to repair the church. "It was a full-time job!" She was also a worship leader and involved in pastoral work. "I enjoyed the nursing home and sheltered housing services. The need to really listen was acute as these folk had amazing life stories."
At the same time her priest encouraged her to pray about her vocation for ministry in a more formal way than the roles in which she was working. That call to priesthood became stronger but Penny still resisted. At the same time, the desire to return to St Mawes was growing. "I couldn't resist looking at Rightmove! I had a sense it was where I should be."
… that included becoming a Reader and finally pushing open the door to ordination…
After attending a Diocese of St Albans vocations day, she learnt that priesthood was not a possibility in that location. "I was considered too old, so I undertook Reader training instead." However, it was on various trips to Cornwall that Penny met with a previous curate at St Mawes, Revd Arwen Folkes. "Arwen asked me if I had thought about ordination. I said yes and told her the story. She said she didn't think I would be too old here in Truro Diocese!"
… And coming home
And so began the chapter that led Penny home. She moved full time to Cornwall, became a student at the South West Ministerial Training College and was ordained in Truro Cathedral at the end of June. "I have definitely come home. I love it here and am excited to see what happens through the On the Way process. I hope to see all the churches across the Roseland working together, thinking creatively about how we can minister to children, the older population and the tourists. Churches can be bewildering and excluding. Who knows when to stand, sit down, join in or be silent? But everyone knows what to do at a beach barbecue. Be in community, love one another."
"I have definitely come home. I love it here and am excited to see what happens through the On the Way process.
Walking alongside people in their pain
It all sounds very idyllic. A beautiful little fishing village, nestling on the gentle southern facing waters of Cornwall. Penny coming back to the place she was most happy as a child. But she has known pain in her life. She lost her husband two years ago to cancer and dementia. "It was difficult, but it's a scenario that a great many other people endure. It means that I can appreciate some of what people might be going through, I really do. I've walked with something similar. I am particularly drawn to funerals. People are vulnerable, hurting and confused. They need to talk, to be heard. It's a privilege to be there for them."
A rich ministry in occasional offices
With St Just in Roseland, probably one of the most beautiful church settings in Cornwall, occasional offices and tourists will make up a big part of Penny's ministry. "I'm excited to see what we can do together. I helped organise a Jubilee children's arts event over three days. Of the many children who came, probably only 3 were local. That's a challenge but also an opportunity. We have the excellent Roseland school and the chance, perhaps, of offering some sort of peripatetic youth groups. We also have the very large TV screen left over from Arwen's winter cinema club days. This side of the pandemic there are a great many possibilities."
Coming home can take a lifetime. With the rich experiences that Penny Leach brings to her new role as curate for St Just in Roseland and St Mawes, it's a home that welcomes her warmly.