Kernow Green Church Award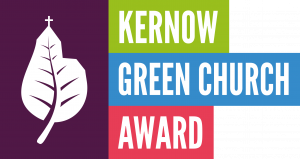 Begin your journey to Net Zero 2030 and make your church more environmentally sustainable by achieving the Kernow Green Church Award.
The Kernow Green Church Award is all about accessibility and encouraging first steps and lasting steps to engagement in Creation Care.
This newly revised award (Oct 2021), is designed to create a fruitful and sustainable avenue for your local church to engage in meaningful creation care and join with the nationally recognised A Rocha Eco Church scheme.
Register your interest in the Kernow Green Church Award here
WHO IS IT FOR?
Everyone! The Kernow Green Church Award has been specifically designed to enable relatively easy engagement in working toward climate justice, whilst ensuring that practical steps are taken to help establish this essential work as part of the DNA of your local church.
Engaging in the Kernow Green Church Award and working with A Rocha Eco Church will enable your church and community to take steps to Cherish Creation, Cut Carbon & Speak up.
How to achieve a Kernow Green Church Award
To achieve the Kernow Green Church Award, local churches are asked to complete and evidence the following four criteria:
Pass a PCC resolution to adopt the 'Parish Creation Care Policy'.  The diocesan Creation Care Group (CCG) will develop this pro forma resource for parishes to adopt and it will include:Creation Care as permanent PCC agenda item;
Annual carbon footprint return as part of annual parish returns;
Creation Sunday service or Creation Tide service / event etc.)
For each parish, appoint a Creation Care Champion / Officer (or team of champions) who are supported by and report to the PCC;
Register with the A Rocha Eco Church scheme;
Carry out the initial environmental audit via the Eco Church scheme(Support & resources available here).
There will be other events and avenues where you can access training and development. More details will be available in this section.
Why is it important?
Climate justice is an issue that affects everyone and indeed has the potential to be a powerful uniting factor for the whole of the Church to work toward and lead in together. It is a tragic reality that those least responsible for climate crisis are often those most vulnerable to its devastating effects. We – the relatively wealthy western church have also been historical contributors to what we now clearly see as climate crisis and injustice. Therefore we have a pivotal role in leading the way to a re-flouring of Gods very good creation. As the Diocese of Truro we have set out our strategic environmental policy which you can access here.
In this we have set our environmental missional purpose as Cherish Creation, Cut Carbon, Speak Up.
So how will we actually achieve this?
Our call to Cherish Creation, Cut Carbon, Speak Up must start at a personal and local level, worked out in the families and communities in which we live, work and worship.
Cherish Creation might look like establishing a partnership with Cornwall Wildlife Trust for the environmental management of your church yard or grounds. This is a simple and hugely effective way to increase biodiversity.
Cut Carbon could be expressed though switching to a renewable energy supplier for your church power and heat.
Speak Up could be heard by joining with the many petitions urging the Government to take action and respond to the climate crisis.
Partners
The Church is also blessed to have excellent relationships and partnerships with other organisations which have significant depth and knowledge in a faithful response to climate crisis. One such organisation is Green Christian, you can access its hugely informative website here.
We found 4 resources