Praying for the Diocese of Truro
At the heart of the Anglican pattern of morning, midday and evening prayer are these beautiful words, which are repeated over and over again – Glory to the Father and to the Son, and to the Holy Spirit; as it was in the beginning is now and ever shall be. 
Those words are repeated so often because, in the midst of a changing world, we need to be repeatedly directed to our unchanging God, whose love, grace and mercy are available now, as they always have been and always will be.
We are in a time of change in the Diocese of Truro, as we implement our plans to support and equip ordained and lay leaders for changing roles, connect with children and young people and serve those who are most in need, and as we seek the next Bishop of Truro. And that means that, more than ever, we need to keep focussing on the unchanging love, grace and mercy of God, asking for His presence, guidance and wisdom.
To help us with that as a whole diocese, we are offering some prayer resources, which we invite you to join in with and to make use of in whatever way works best for your setting.
THREE SERVICES OF PRAYER AND WORSHIP
Starting on October 29, 6.30pm, at Truro Cathedral, we will be gathering to pray together on three occasions over the next 12 months. Future services will take place in the East and West of the diocese in locations and on dates to be decided. These services, which will reflect the full range of Anglican traditions and styles, will include silence, spoken prayer, scripture and sung worship. You can find more information about the services here in the coming weeks.
PRAYER CARDS
Bishop Hugh has written a prayer for the diocese, which you are invited to use in services and other settings as often as possible. The prayer is being distributed on postcards to churches and schools. If you would like to receive the postcard for your own use or for your church, please contact Church House. The prayer is also available on the diocesan website. Further prayers will be written and shared in the Spring and Autumn of 2024 and Spring 2025.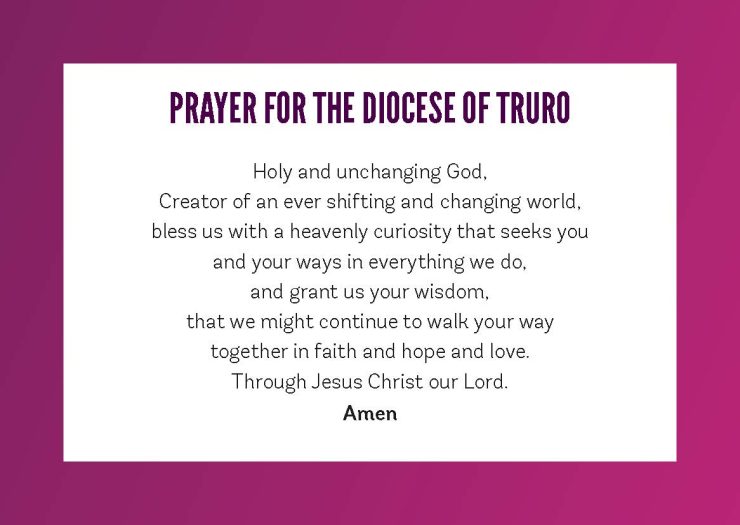 PRAYER IN SCHOOLS
Our schools team is producing a pack of resources for all our church schools – and any others that want to join in – helping them to pray for one another, their schools and for the life of the church in Cornwall. These will be sent directly to schools. If you would like a copy, it will be available on the diocesan website in early October.
PRAYER VIDEOS
Each month for the next 18 months, we will share a video of someone in the diocese praying the prayer for the diocese and praying for their own setting. Look out for these on our social media and on this website. 
The Junior Ringers from St Mary's Bradoc