Training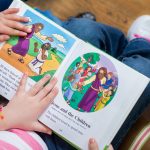 For parishes exploring working with Children, Families and Young people we suggest you start with The KEY which is a brilliant foundation course and we can deliver this for you.
---
We can also offer or point you in the right direction for training including: An Introduction to Messy Church; Open the Book Initial training; Working with Under Fives (including Toddler groups); An Introduction to Godly Play; Introduction to Who Let the Dad's Out?; An introduction to Prayer Spaces in Schools; Praying with Children; Learning Styles; Multi-generational worship; Exploring Children and Communion and Reaching out to Families.
If there are needs in your community that are not addressed by the above, please contact us. We are happy to provide bespoke training or if appropriate direct you to other organisations who will be able to help.
We found 2 resources