Meet Rory Clare new curate for Camborne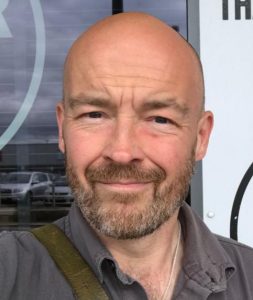 Rory Clare, who will be ordained as Curate at the end of June, will be joining the team at Camborne. Hailing from up north, Rory feels a synergy with this once industrious area. Westhoughton, in Lancashire, where he grew up, is also a region where mines no longer fuel the economy. The men in his family worked down the mines and the women in the cotton mills. Both shaped the region and whose closures left subsequent generations struggling to redefine themselves. A scenario that Camborne, once the richest mining area in the world, is very familiar with.
From pizza maker, bouncer and hotel worker to mental health carer
"I had a challenging upbringing. With an absent father and part-time mother, me and my sister were largely brought up by my grandparents." They did a wonderful job of living out their faith through their kindness. However, the inconsistency of home meant Rory didn't make the most of his schooling. "I drifted from making pizzas, to being a bouncer and working in a hotel." But life started to make more sense when he began working as a carer on hospital psychiatric wards.
No one could talk about love, even when the need was profound
He thought he wanted to become a mental health nurse. He was profoundly moved by the difference a nurse could make, he also by what they couldn't do. "No one could talk about love. I was helping a man one day. He was from Westhoughton, so I was called in. He was in a great deal of distress and asked me why I did what I did. I still remember the pain on his face. It was almost 20 years ago, and I just couldn't answer. I did it because that was where Jesus was. On His knees beside this man, even at his messiest, because He loved him. But I couldn't say that."
Unexpectedly, Rory met the man again last year when arranging his mother's funeral. He offered his condolences and said how much his sister's family had helped him over the years. "I didn't disclose who I was and thankfully he didn't recognise me, but it was the same man." The man might not have known how much and who in Rory's family had helped him, but he had helped Rory too. He had planted some of the first seeds of Rory's vocation to becoming a priest.
WHSmith's, an unlikely location to consider ordination
"Another key moment was in York. Not the beautiful York Minster, but the WHSmith's beside it! On a rare happy day with my mum, we were in that shop, and she bought me a book on monsters. Decades later, I was back there with my own young son, and as I went to buy his gift for him, I was struck by how much the shop had changed. The tills were automated, there was just a security guard on the door, and I had a stark vision of a disconnected world. I didn't want that. It felt as if God was calling me to stop being a compartmentalised, disconnected Christian. To begin living out His love, every day, in everything I did."
"I felt God was calling me to stop being a compartmentalised, disconnected Christian and to begin living out His love, every day, in everything I did," Rory Clare.
By that time, Rory and his wife, Sarah, had moved with their children to Rotherham and were attending a new church. Sarah had already encouraged Rory to fulfil a long-held dream to go university and study history, which he did. "And I loved it. I thought I might teach. Then our vicar Frances encouraged me to think about ordination, echoing a thought Sarah (who's a vicar's daughter) had had six months earlier. I'm always a few steps behind my very clever wife!"
Pennies that didn't just drop but cascade
By the time Rory began training at Cranmer Hall, Durham, pennies didn't just start dropping, they rained down all around him. "I had spent a lifetime waiting for someone, for life, to hand me the script for what I should be doing. Finally I realised I had the ability within me to write my own script, together with the people I love. I had agonised over what makes a good man, how to live a good life, until this quote from Marcus Aurelius spoke to me: "Waste no more time arguing about what a good man should be. Be one."
"So much is possible if you just begin with that small challenge in front of you," says the man who now runs half marathons
One of the modules during training encouraged Rory to look at the teachings of Ignatius that advocate taking time out to reflect on what's happened in the day, to pray for what's ahead and to learn from the lessons that life reveals. "No time is wasted, only the time you don't learn from your mistakes," says Rory. He applied it to everything, including his diet. Within a year he lost 6 stone and took up running. "I couldn't run for half a minute, now I'm running half marathons. But I don't say that boastfully. I've learnt that so much is possible if you just begin with that small challenge in front of you. Whether that's the first 250 words of a 50,000-word essay, or the first step from the couch to putting on your running shoes.
"Like a lot of people, I suffer from imposter syndrome. When I was on the wards, I thought why would these people, who have had such rich life experiences, but are in such pain, want to talk to me? Now I know that everyone wants to be heard and I want to be available to listen."
What does Camborne hold for Rory…?
So, apart from the temptation of pasties, what does Camborne hold for Rory Clare? "The opportunity to train and learn from a fabulous team. I couldn't be more chuffed about the people who will be around me. Studying is wonderful but I am excited to start doing. To learn how to be the priest I wish I had met when I was fourteen."
And the pasties? "Well, I'll have to run a bit harder!"
"I want to learn how to be the priest I wish I had met when I was fourteen."
Rory Clare will be ordained at Truro Cathedral on June 24th by the Rt Revd Hugh Nelson, Bishop of St Germans. The service takes place at 7.30pm.