New interim Director of Education joins the Diocese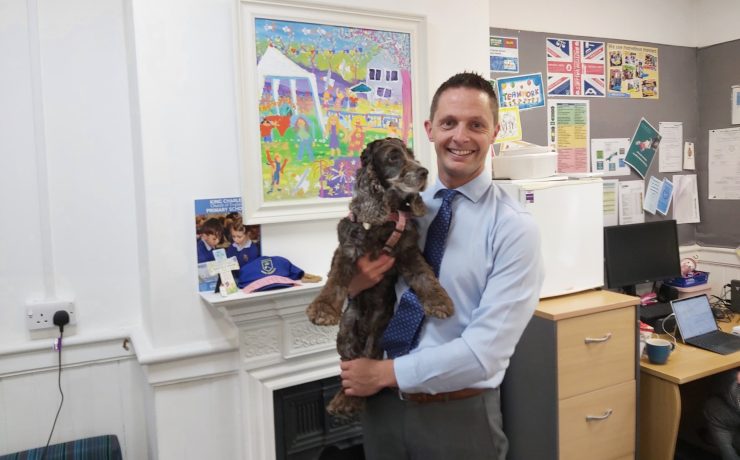 There's a lot going on in Lee Moscato's life.
For one thing, the popular and well-respected headteacher at King Charles School in Falmouth – who, in his spare time, sings second tenor in the City of Truro Male Choir – has just been seconded to serve as interim Director of Education at the Diocese of Truro.
For another, after 14 years together, Lee and his partner Liam were wed this summer.
"It was about time we got married," Lee laughs. "There's something very special about recognising our togetherness – making our union official and recognising it properly with everybody there."
Life in Cornwall
Lee was born in Truro and brought up in Redruth. His mother is of Italian descent. Her father had come to Cornwall after the war to work in the mines. His grandparents on his father's side were from London – an Anglican grandfather and a Jewish grandmother.
Lee's parents had separated when he was only three years old. As a single parent, his mother had brought him up along with his little sister. The family certainly weren't well off.
"That's where a lot of my passion for supporting the most disadvantaged people comes from," he says. "I'm proud of my background. It's really important to know that it doesn't matter where you're brought up, you can always do great stuff."
Lee trained to be a teacher in Redruth. The idea of going away to study hadn't appealed to him. Indeed, he's spent his entire professional career in Cornwall.
"I'm something of a homebird," he says.
He completed a foundation degree and then a BA while training at Pennoweth School in Redruth. He worked there for 12 years, progressing from teaching assistant to teacher, before taking a teaching position at Falmouth's King Charles Primary School in 2010.
"I thought I'd stay there a few years and then move on," he says.
In fact, he's stayed at King Charles for 13 years, rising to become its headteacher.
"The place gets to you," he says. "There's something about it that means that people don't leave. I think – and I say this genuinely – it's because it's a church school."
School of faith
With their rich and varied religious heritage, his parents had raised him and his sister to find their own way in relation to spiritual faith.
"I've always had faith, but my faith had grown since being part of a church school," he says. "My respect for faith and my appreciation of it – seeing what comfort it can bring – has grown deeper through being at an Anglican school."
He doesn't attend church every Sunday but tries to practise the values of his faith each day.
"You don't have to go to the church building," he explains. "It's about living your life in a certain way – about living those Christian values. It's a cliché but, when people talk about what Jesus would do, it really is that. It's about showing dignity and respect to others, showing empathy, being honest, being giving, being a good friend and being part of whatever your family might look like."
One important member of Liam and Lee's own family is their dog Coco. She would accompany Lee to school once a week, and he says she's proven really helpful when children have been experiencing difficulties.
"She knows when people are stressed or upset and she instantly calms them down and relaxes them," he explains. "She's fab. They'll miss her more than they'll miss me."
Big shoes to fill
As he takes on the interim position of Director of Education at the Diocese of Truro, Lee's aware that he's stepping into a role in which his predecessor Katie Fitzsimmons had proven hugely successful.
"What she's done has been really quite something," Lee says. "For me, it's a bit like being on Britain's Got Talent when the person before you's just got the golden buzzer. She's really set the standard. It's a bit daunting but very exciting. The big thing is to build upon the support and trust she's developed with schools."
Lee supposes that leading a school is now perhaps harder than it's ever been.
"We've been through the pandemic, which was incredibly tough," he says. "But today with the cost-of-living crisis and an ever-changing educational landscape it's really very difficult."
He believes that the way that people tend to turn to schools in times of crisis represents both a privilege and a challenge for school leaders. He sees his new role primarily as giving those schools and their leaders the support they need.
"A key part of the work is being a voice for church schools and shining a light on their work," he says. "It's a real privilege. I just can't wait to start."
Lee will be formally commissioned to his new role at a special service to be led by the Right Reverend Hugh Nelson, Bishop of St Germans, at Truro Cathedral on 16th September.