Explore Easter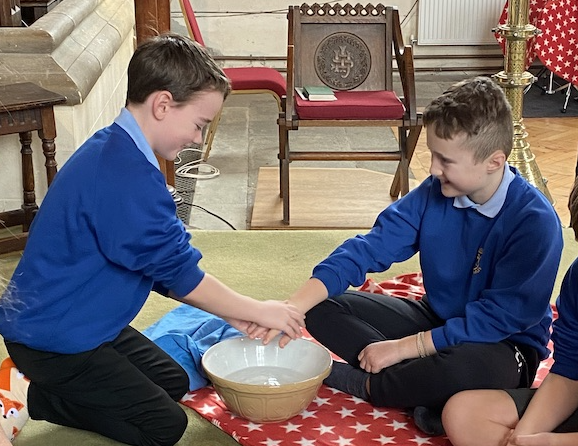 How do you explain to children what Easter really means? And not just tiny children but children on the cusp of becoming teenagers, who look wryly at the adult world and have some rather pointed questions of their own. That was challenge that the Transforming Mission team at New Street set for themselves with Explore Easter.
Not shying away from the difficult questions
Based at All Saints Falmouth, they invited 300 children into Explore Easter in the weeks leading up to Easter. That is six primary schools, only two of which are church based. And they didn't shy away from the difficult questions. Why do Christians believe Jesus was the Messiah? What did Jesus do to 'save' people and what sort of king was He?
To explore these questions and uncover what Christians believe, the children began by sitting together to watch a film, The Miracle Maker. This tells the story of Easter through the eyes of a young girl. After key events like the Last Supper, Judas betraying Jesus and Peter denying Him, the Crucifixion and Resurrection, the children asked and answered questions. Did it really happen? Why did Jesus appear to so many people after he came back to life? How did it feel for the little girl?
They then dispersed to different stations around the church, enjoying activities from sharing the Passover meal, the significance of feet washing, to depicting the three crosses on the hill at sunset.
Giving children the space to express how they feel and ask a bishop about God
As well as covering key curriculum objectives, the children were given freedom to express how they felt through craft activities that explored joy, sadness, forgiveness, hopes, dreams and confusion. It was powerful. Give children the opportunity to express how they feel or ask a question in a safe environment, and they don't hold back.
As Bishop Hugh, who joined in one afternoon, said, "Some of those questions were really challenging!" In response to the 'If you are real, where are you?' he gave a three-part answer – he is a bishop after all. The first being we can discover the reality of God by finding out about Jesus in the Bible. The second, we can talk to Him through praying, in a church or anywhere. And the third, by experiencing the world as God wants it to be, when we love someone, or work to make it a fairer place, to stop poverty.
Other questions included: Why was I chosen to be here? If you are the creator of everything who created you? And two favourites: How do we work out the Grand Unified Theory? And How did the creator of the clock know the time?
Building up trust
At New Street, they have struck gold with their children's work. But that isn't down to luck. They've built up trust with their local schools through good communication and an understanding of the pressure teachers are under. It also helps that Jane Wheeler, their Schools and Families Lead, is a former primary school teacher. The invitation pack she sent out to schools gives clear outlines of the format of the session and what key RE objectives will be fulfilled.
The teachers also enjoy the sessions. They get to sit back and watch their children have fun and engage in ways that there isn't always time to do in a school setting.
The session ends with a hot cross bun and a prayer, one that we could all use, especially in times like these when there is so much uncertainty.
Lord Jesus, help us to believe what happened to you and why you died and rose again. Give us faith and hope that you are always with us, no matter what we do and that you will always love us. Help us to love others, to forgive and show kindness to everyone we meet. Amen