Grow it Forward, and a community flourishes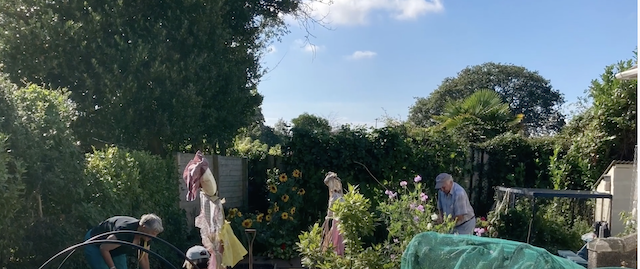 Like lights in a storm, good things light up the darkness during the pandemic. Often small but really encouraging, keeping us going and showing us we're not on our own. St Mylor and All Saints created lots of these lights in their community, through the seeds they planted and shared from their community garden. They called it "Grow it Forward".
Grow it Forward
The Garden, as it came to be known, was planted in 2019 and came into its own during the lockdowns. Created from a small, unused patch of grass beside the parish church, it grew into a beautiful blessing to the village that kept on giving. In 2020, instead of planting the seeds that were ready to sow in their garden, the small group of volunteer gardeners decided to distribute them around the village. And Grow it Forward was launched.
Grow it Kerbside
People received seeds, grew plants, shared with their neighbours, and returned plants to The Garden. From this, "Grow it Kerbside" developed with stalls outside peoples' houses. Children from the local school had lessons in The Garden and villagers weeded and watered as part of their daily lock-down exercise.

In The Garden, seeds are planted and conversations deepen
The Garden became a focus for the village, no longer a churchy thing, but a place of belonging and growth for everyone. Today, it's sprouting new initiatives like a pop-up café and wellness destination, attracting new volunteers. It's also becoming embedded in social prescribing from the local GP's surgery.
People from the church have weeded and planted side by side, with conversations happening through digging the soil together. Seeds which are planted are bearing fruit in more ways than one.
Grow it Forward as a competition entry
The story of this pioneering project and its ability to Grow it Forward has been submitted to a competition run by Ecclesiastical, an insurance group that looks after many of our churches. The competition wants to highlight the bright ideas, community heroes and ingenuity of churches during the pandemic. St Mylor and All Saints are worthy contenders.