Interim Diocesan Director of Education announced
Lee Moscato has been appointed as the new Interim Diocesan Director of Education (DDE) in the Diocese of Truro.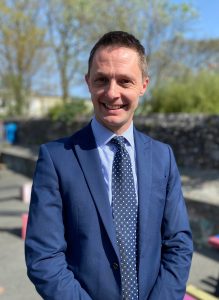 Lee will be joining the diocese on a 12-month secondment from September 1, 2023. Lee is not a stranger to the diocese. He is currently the headteacher of King Charles C of E School in Falmouth, is a member of Askel Veur and has spent time as a school-based lead supporting the education team at Church House in promoting the Church of England Vision for Education.
Diocesan Secretary Simon Cade said: "We are delighted that Lee will be joining us. We know Lee well as the head of King Charles School and as a 'school-based lead'. This means that Lee brings his experience as school leader and head and the experience of supporting other schools and school leaders.
"Lee's passion for education shines through him and through the children that he inspires, I am looking forward to working with him as he leads the Diocesan Board of Education towards a vision that is deeply Christian, with Jesus' promise of 'life in all its fullness' at its heart.
Lee, who hails from Redruth, has worked in education for 25 years. He started his career as a teaching assistant and then continued through various leadership roles leading to his current position of headteacher at King Charles which is part of Kernow Learning Multi-Academy Trust. He has recently been accepted to train as a SIAMS Inspector and is undertaking a National Professional Qualification (NPQ) in executive leadership.
Lee said: "I feel incredibly excited and privileged to be appointed into the role of Interim Diocesan Director of Education at a time like no other for all schools. As a serving headteacher in one of our diocesan schools, I am acutely aware of the challenges that schools have faced and continue to navigate.
"Until I worked at King Charles, I had not worked in a church school and it was working here where I really saw the impact and importance of our church schools' work.
"I look forward to working with school colleagues and our diocesan team to support the continued journey of our schools and enable our children and young people to know life in all its fullness.
"I want to take this opportunity to recognise the work of Katie Fitzsimmons and thank her for all that she has done for our schools. The cliché of big shoes to fill could not be more apt – I have taken the baton and will give my all to the work of our diocese and its schools and communities."
Clare Crowle, CEO of Kernow Learning, said: "We are delighted that Lee has been appointed in this interim role. We recognise that he will bring huge energy, commitment and passion for the role the diocese plays in improving schools and securing highly positive outcomes for the children. Lee has played a pivotal role in strengthening the diocesan schools in our trust and we are delighted that he will be able to do this on a wider scale."