Feeding the Multitude – the Bodmin Way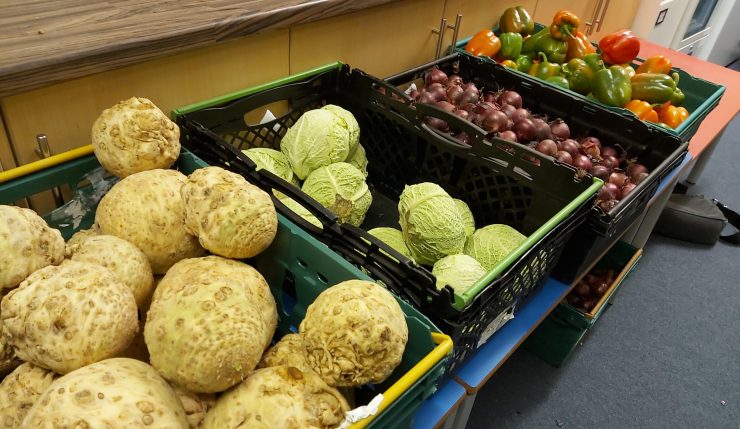 It's a year since Bodmin's Community Larder first opened its doors. It was established in with the aim of providing the town's people with affordable food and preventing food waste. It's an important part of a successful social enterprise run by local parish churches called the Bodmin Way.
The organisers had started the Community Larder in spring 2022 by setting up a small table at St Petroc's Parish Centre. They'd placed an initial order for just 100 kilos of food from FareShare, a charitable network which redistributes unwanted food across the country. But their plans for a quiet launch had proven much more successful than they had expected. Even that first week, nothing was left over.
The larder distributed 45 metric tons of food in its first year. Most of this has been sourced from FareShare. They now distribute 750 kilos of food every week.
The initiative has received additional supplies from the Gleaning Network and from Morrisons supermarket. At one point, Total Produce in Bodmin contributed an entire pallet of pasta, which would otherwise have headed to landfill. On another occasion, Proper Cornish made a generous donation of pasties and tinned biscuits.
Organiser Abbie Cavalera recalls being offered a large consignment of eggs from Saint Ewe. She packed as many as she could into her Mini. There was more than enough for Bodmin's Community Larder – so much that she was able to share the surplus with other foodshare schemes in the region.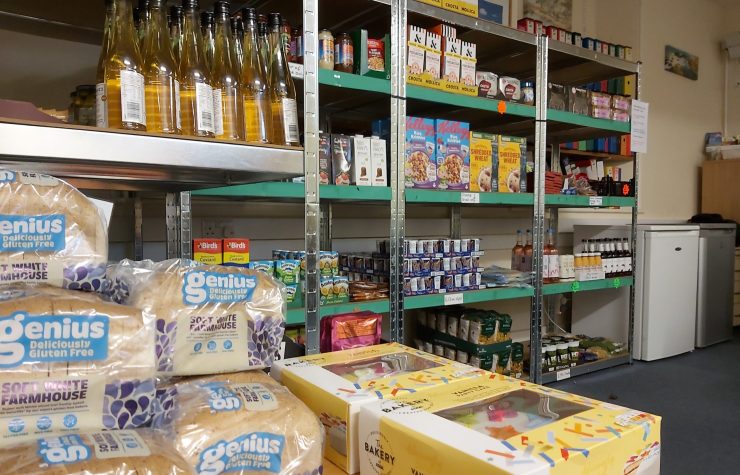 The project has received funds from Feeding Britain, the Rotary Club and Cornwall Council's Community Chest Fund, as well as logistical support from the broadband company Wildanet, who have helped with deliveries. Volunteer Mo Tandy even raised £1000 in sponsorship by shaving her head.
The Community Larder's initial target was to attract 100 members within a year. In fact, it's now nearly quadrupled that number.
Having established itself as an important resource for the local community, Abbie is hopeful that the project will eventually become financially self-sustaining to assure its future as a permanent fixture in the town.
Abbie also stresses the importance of the local people who give their time to support the project.
"It all takes an incredible amount of work to organise," she says. "We're so grateful to our volunteers. We couldn't do it without them."
As the project has developed over the past year, the scope of its services and its impacts have grown.
"For many members, it's become about more than access to affordable fresh food," Abbie says. "Friendships have blossomed, and other support is now available at the centre."
The Community Larder opens on Monday evenings and Friday mornings. It also opens for St Petroc's toddlers group on Tuesday mornings, and at the church's Wednesday lunchtime events for older parishioners.
During the Community Larder's Friday morning sessions, St Petroc's Parish Centre now also hosts the Kernow Credit Union, an ethical saving and lending group which operates across the county.
It also provides regular opportunities for visitors to meet representatives of such organisations as Citizens Advice and People Hub.
Also present each Friday morning are parish nurse Geraldine Ashton and her assistant Rose Rive, as part of the Parish Centre's weekly welcoming community space.
As well as assisting the parish nurse in supporting the health and wellbeing of local people, Rose prepares the hot drinks, sausage baps and bacon rolls.
"We've got homemade cakes too," says Rose. "There's more food than you can shake a stick at."
Rose also makes takeaway meal treats for people to take home with them – what they call "Friday night fake-aways".
"Once you've got food, friendship and fellowship, you've become a community," Geraldine says.
"We're very responsive to social needs," Rose adds. "If there's a need, we'll try to fill it."
"We have different people coming in to talk about different things – a vast range of people and ages," Geraldine says. "Everyone gets a warm welcome. It's a huge blessing for both staff and visitors."
Their work is supported by the Diocese of Truro and the Deanery of Trigg Minor and Bodmin.
"The amount of help we receive is amazing," says one user of the Community Larder. "And there's always a smile from all the staff."
Local people have taken to social media to express their gratitude as the project marks its first anniversary.
"You have a fantastic team there," said John. "Long may it continue."
"This winter would have been a whole lot tougher without you," added Kat.
"All the hard work you do it has made such a difference to a lot of people and the planet," said Caroline.
Alison summed up the feeling of goodwill the Community Larder has generated in Bodmin: "I really don't know what we would do without you."