Fighting the bitter chill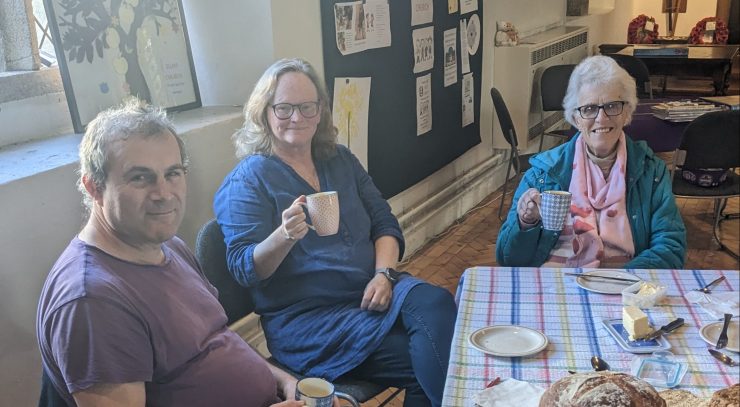 We are all experiencing the cost-of-living crisis. People across the country are struggling to feed their families and heat their homes.
In response to this desperate situation, one unprecedented in modern times of peace, a national initiative has registered more than four thousand organisations providing services and spaces which offer warm welcomes to those most in need of support through these extraordinarily difficult days. The parish of St Agnes on the north Cornwall coast is now playing its part in this vital work.
It was the poet John Keats who two centuries ago observed the "bitter chill" that in the heart of winter suffused his vision of the Eve of St Agnes. But today the Church of St Agnes has been working to protect its local community from the worst effects of that cruel cold.
Throughout this winter, the church is opening for eight hours each day to provide a warm, comfortable, friendly environment with facilities for free hot drinks, and toys for children to play with, as well as access to a community larder and a book swap. People can come in to read or work, or simply to make new friends, to chat and socialise.
The parish are being supported in their efforts by the Diocese of Truro, which has provided funding to make up the significant shortfall in their energy budgets, allowing them to keep the church building open and heated through these challengingly chilly months.
The Church of St Agnes is also offering a free lunch of bread and soup each Tuesday and is running a coffee morning every Friday.
The organiser Charlotte Irwin has spoken of the broad range of people who've been attracted to the initiative.
A warm and welcoming space
"One young couple, living in social housing, new to the area and without any local support networks, would come along most weeks. They've enjoyed the soup and talked about issues they've faced. They needed the food and the warmth, but they also needed to be there and not to be judged," Charlotte says.
They have also expressed their gratitude on social media: "We're sat lovely and warm next to the heaters… Lovely to just be able to sit and chat today and not feel bad for using the services. Freddie (the dog) enjoyed it also."
"One elderly lady," says Charlotte, "told me last week she'd been out doing her shopping, but headed back so as not to miss the session. It's not so much that she needs the soup. She comes each week for the company. She says she shapes her day around coming to see us.
"Another lady says it's the highlight of her week. She enjoys lively discussion with other people, often raising questions for debate. She's not lonely but is looking for the stimulation that such interactions give."
Charlotte adds that there's a group of teenaged boys who come into the church late afternoons just to hang out.
"It's really good that they feel able to come into the building," Charlotte says. "All they want is to feel welcome and to have somewhere to go. One time, I went in and found one of them up in the pulpit. They said they were practising their singing, to sing happy birthday to a friend. So I asked them for a song – and so they sang!
"They've helped to change that old perception that teens are always up to no good. Their presence with us should help to inspire people to welcome them in other situations."
They've had people who've just come in because they've needed someone to talk to about a bad experience on the street. One young man comes to sit in the church because he says it lets him feel God's presence. One homeless man has used their heaters to dry his tent. A grandmother comes in with her grandchild to play with the toys and to offer a different social environment for her granddaughter to enjoy.
"There are enough individual stories we hear that we know what we're doing matters," says Charlotte. "It's worth doing it just for that really."