Archdeacon Audrey leaves the diocese
The Archdeacon of Bodmin, the Ven Audrey Elkington has left the diocese to return to the north of England.


Before finally heading out of Cornwall earlier this week, Audrey was treated to two leaving events. The first, at a meeting of Church House staff, featured a quiz about all things northern as well as a sung blessing by Eva and Flynn O'Byrne, children of Audrey's Executive Assistant Alex. Audrey said: "Thank you so much for such a lovely send-off. I was touched by your kind words and expressions of friendship."

The final event was a farewell event on Zoom which was open to all across the diocese and was led by Bishop Philip.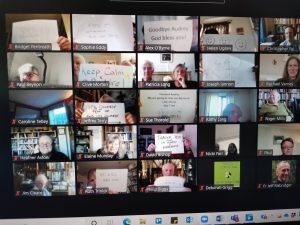 As well as the usual expressions of farewell, Audrey and her husband Dave were treated to a game of them versus the diocese which they ably won. The couple were presented with a card signed by a large number of people from parishes across both archdeaconries as well as colleagues at Church House. Audrey also received a handmade decorative glass plate as a gift. Participants ended the event by holding up farewell messages.

Having had requests for where people could donate to a leaving gift, Audrey had specified she would rather the money was given to the Funds for Mission to benefit projects in the Diocese of Truro. A collection of £1,400 was raised. Audrey was keen to express her gratitude for everyone's generosity.