Working for Warleggan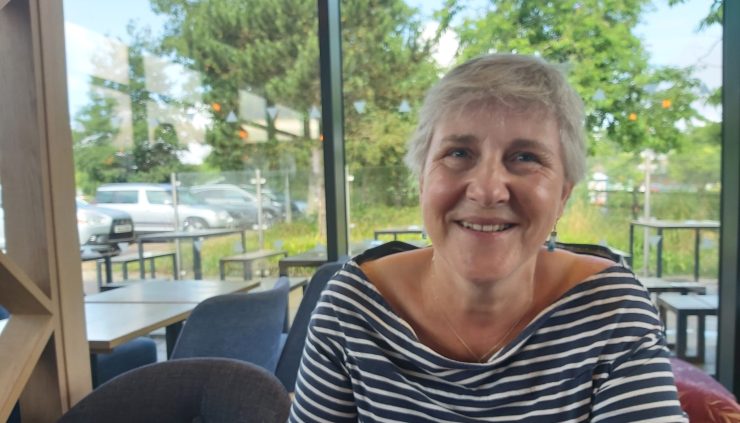 Liz Lane wasn't brought up as a churchgoer at all.
"It was that classic English compromise," she says. "You have your children baptized, but then let them make up their own minds about confirmation when they're older."
But she'd always sung in choirs at school.
"And of course a lot of that was sacred music," she says.
In the end, though, it was by exploring other religious that she gradually came to her faith.
In her early thirties, she'd learned to meditate through attending Buddhist study days and retreats. They'd offered what she calls a "good detox weekend" after the stresses of the working week.
Born in Kingston-upon-Thames, and brought up in Reigate, Liz had gone on to study English Literature at Exeter.
"I ran away from the southeast pretty quick," she laughs.
After Exeter, she'd moved north and enjoyed a successful career in arts administration and policy development, working in Lincoln and Durham before crossing the border into Scotland, where she served as an arts development officer for Argyll and Bute Council, and as the deputy director of a major arts centre in Stirling.
During her career in the arts, she'd often attended evensong services at her local cathedrals.
"I worked in a lot of cathedral cities," she explains. "I was a cathedral-goer, not a churchgoer. I remember someone once said to me that I'd find all the arts administrators huddled at the back of the cathedral on a Friday night listening to evensong. It was for the music and the beauty of it. So I went, and there they were. In a cathedral you can hide at the back and no one's going to ask you to do anything."
All that was about to change.
Coming to Cornwall
Liz had met her husband in Scotland and they'd married in 1998. Nearly twenty years ago, they moved down to Cornwall, where they've raised their two sons in the village of Warleggan, between Liskeard and Bodmin.
They arrived in February 1994.
"The day we arrived, we were unpacking boxes, when shimmering across the lawn in a long cloak came our new vicar – coming to welcome us," she recalls. "He was like a Dalek – moving without any apparent source of propulsion."
So of course they invited him in for tea.
"He was charming and lovely and welcoming," she says.
As he'd left, he'd said he hoped he might see them at church the following Christmas. In fact, they'd been so charmed by his kindness that they went along to church just a couple of weeks later, and gradually started to become more regular Sunday worshippers.
Later, as they grew to know him better, the vicar – the Reverend Andrew Balfour – asked Liz if she'd like to read lessons in church. And she'd asked him to prepare her for confirmation.
In this way, her commitment to her local church had grown. Then, when Revd Andrew was preparing for his approaching retirement, he'd asked her if she'd take the ten-week training course for lay worship leaders, so that she might conduct services in the period before the appointment of a new priest for the Benefice.
She'd done so, and had of course carried on supporting worship once the new incumbent had arrived.
She recalls at the time receiving a letter from the then Bishop pointing out her rights and responsibilities as a lay worship leader. They didn't include the right to preach.
As the years went by, however, her aspirations for her ministry had continued to develop.
"I began to find myself rather ignorant in theology," she says. "I felt I needed to do more."
Developing ministry
It was at that point that she applied to join a three-year course to train to become a Reader. She describes those three years as having been "a complete joy".
Readers receive in-depth theological training, which includes being trained to preach.
"I really didn't think I wanted to preach," she says. "I remember telling my selection panel it wasn't for me. I think they thought I'd change my mind."
She now supports the duties of the Rector of her Benefice, the Reverend Garry Swinton, whose work is also supported by a local retired priest.
She preaches once a month at Warleggan and St Neot, and even manages an "a cappella evensong" once a fortnight.
She also runs a prayer meeting every Wednesday evening on Zoom, an online gathering which had started during the height of the Covid-19 crisis.
"It's a very faithful group," she says. "It's continued after lockdown because people like it."
She explains that, for her, preaching isn't simply about standing up in church on a Sunday to deliver a sermon. It's much more about the time spent, for more than a week beforehand, refining her thoughts as she works closely with her chosen texts.
"It's about taking a deep dive into scripture," she explains. "It's a bit like an extreme sport. There's a lot of preparation and you know that you've been trained well, but there's also a lot of having faith that you're being held. You just have to trust that the thoughts that pop into your head are spirit-driven, or spirit-given if you like. Mostly things come together in a way that you know you're being given something to share."
Liz says she's very grateful to her parishioners for supporting her development as a lay minister. Although her congregation in Warleggan tends to favour the traditions of the Book of Common Prayer, looking all the way back to 1662, she says they've also encouraged her to try new things.
"That's been very generous of them," she says. "They've let me mix it up a bit as I've learnt to become a fully rounded minister."
The heart of the community
She explains that, as the Rector of the Benefice has since the 1950s been based in the neighbouring village of St Neot, while she herself has lived in Warleggan for nearly twenty years, she's become someone to whom her local parishioners will often turn.
She's conducted outdoor Remembrance services in the village and has even been asked to turn on the lights, along with a prayer, of the village Christmas tree.
A pillar of the area's worshipping communities, she's also served in the past as a lay pastoral leader for the Liskeard and Looe Methodist Church, and as a lay chaplain at Callywith College in Bodmin.
Today, one of her most sacred duties is to conduct funerals. It is also, she says, a "very rewarding" aspect of her ministry, but is a responsibility which she'd initially found somewhat daunting.
It was during the pandemic lockdown that she'd been asked by one of her neighbours to take her first funeral.
"It was one of the most frightening things I've ever done," she says. "I didn't think I'd be adequate."
Since then, she's conducted around two dozen funerals. She now considers it a key part of her work.
She would encourage anyone thinking of taking their first steps into local lay ministry to do so with their eyes open to the varied responsibilities of the role.
"It's a hugely rewarding thing to do, but I don't think it's something you can do half-heartedly," she explains. "It has to be a full life decision. It's not just about turning up in church on a Sunday and doing your bit."