Give the gift of hope this Christmas
The 2020 Cornish Christmas Giving Catalogue is out now!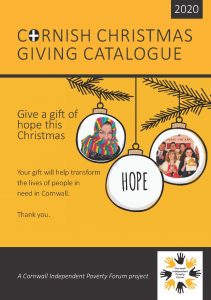 Featuring 20 charitable organisations and all of Cornwall's foodbanks, the catalogue provides an opportunity to give a gift of hope to someone in Cornwall this Christmas by giving a gift of love to friends and family.
The Rt Revd Philip Mounstephen, Bishop of Truro welcomes readers to this year's catalogue. He says: "This year, 2020, has been a year like no other. None of us, at the beginning, could have predicted the significant impact Covid-19 would have had upon us. For me, one of the most striking and alarming features of it was the way in which it magnified existing inequalities. Put simply, the poorer and more vulnerable you were already, the more likely you were to succumb to the virus. That is not a situation any of us should be content with. And of course the ongoing economic effects of the pandemic will be felt most severely by those who are least able to cope with them.
"So I encourage us – one and all – to take a stand against such inequality by using this alternative Christmas catalogue. Let's make sure that at least some of our Christmas spending this year supports those who need our help the most."
Download the 2020 Cornish Christmas Giving Catalogue here.
The organisations in this year's Cornish Christmas Giving Catalogue:
1. Harbour Housing
Provides accommodation, advice and support to those experiencing, or at risk of, homelessness across Cornwall. The charity has eight properties and also runs an outreach service to prevent those vulnerably housed in the community from losing their accommodation.
2. Cornwall Refuge Trust
Provides a safe supportive environment for men, women and children who have escaped domestic abuse. They offer support and advice, empowering survivors of domestic abuse for a safer and happier future.
3. Truro Homeless Action Group (THAG)
Provides a warm welcome, food and shelter and a regular and safe place for the homeless and vulnerably housed to meet. Around 35 volunteers regularly give two hours a week to provide free cooked breakfasts, seven days a week, 365 days a year. On Christmas Day and Boxing Day we offer a turkey lunch with all the trimmings.
4. Gershie Project
Aims to help people who are lonely, socially excluded, rurally isolated and people whose lack of interaction with others is negatively impacting upon their lives.
5. Backpack Beds
Provide shelter that can help improve the lives of people who face the prospect of rough sleeping on the streets of Cornwall. Cornwall Independent Poverty Forum (CIPF) has distributing over 200 Backpack Beds, in conjunction with key partners who provide support for the homeless in the county.
6. DISC Newquay
Works closely with agencies, organisations and concerned individuals in the Newquay area to help vulnerable people who are either homeless or in danger of becoming homeless.
7. St Petrocs
Believes homelessness shouldn't be an issue in our society today. We are working to end street homelessness in Cornwall. We do this by providing accommodation, support and advice to people who are homeless or at risk of becoming homeless. Our work primarily changes the lives of those we support by creating a foundation to move forward.
8. Growing Links CIC's Street Food Project
Is a hot meal service that operates seven night's a week, 365 days a year. This volunteer-led service was created to support Penzance's homeless and/or vulnerably housed, as well as families and individuals suffering
from poverty. It is not unusual to serve 40 guests a night.
9. The CHAOS Group
Comprises of seven partners, working hard to support everyone in the community.
10. Cornwall Community Foundation
Aims to improve the lives of others in Cornwall, those who are isolated, disadvantaged and vulnerable.
11. Cornwall Prayer Shawls
Wanting to do something to help reach out to the lonely, socially excluded and the homeless and inspired by the Prayer Shawl Ministry in America, Jackie Holden and a small team of knitters started Cornwall Prayer Shawls.
12. Samaritans of Cornwall at Truro
In today's increasingly stressful and hectic world, more and more people are looking to Samaritans as a means of helping them cope with day-to-day issues, crises and disasters.
13. Hidden Help
Primary purpose is to help transfer unused and/ or unwanted household goods from those that have them, to those who need them.
14. The Rusty Bucket
Was established in 2008 to serve the fishing village of Looe, South East Cornwall. We have a special interest in supporting the vulnerable and marginalised adult population – quietly moving people from the streets into accommodation, into work and supporting those battling areas of addiction – all at a local level.
15. Rebuild South West
Run by ex-military personnel, works with individuals to restore lives, rebuild properties, and bring social improvement.
16. Newquay Community Orchard
Is a beautiful seven-acre community space for people and for nature, designed to provide environmental education, employability training, community events and a space where visitors of all kinds can enjoy peace and sanctuary.
17. The PZ@PZ Playzone
Offers a safe much valued indoor space for children to play and for parents, grandparents and carers to meet and be offered support. COVID means we have to run differently – and need extra funds for cleaning and for new appropriate equipment.
18. Drama Express
Is Cornwall's only drama group for children with complex needs such as autism, sensory impairments, limited mobility and health/ medical conditions. Coached and nurtured by a team of dedicated volunteers each child is encouraged to reach their potential through singing, dancing and acting.
19. Quiet Connections
Helps people who feel socially anxious to stop panicking and feel more calm and confident in social situations, so they can finally speak up, join in and feel like they truly belong.
20. Bosence Farm Community
Provides residential rehabilitation and clinical detoxification for people with severe drug or alcohol dependency.
Cornish Food Banks
Have remained open during the Covid-19 crisis, providing food parcels to those families and individuals who cannot afford basic groceries.