Entries invited for The Nick Cahill Award
Truro Diocese Advisory Committee and Cornwall Council are inviting entries for a new award established in memory of our friend and esteemed colleague Nick Cahill.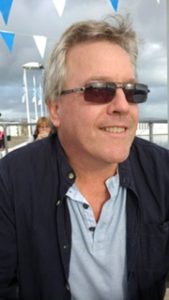 Nick was a hugely influential and highly respected member of the heritage community, a scholar and authority who was unfailingly generous in sharing his wealth of knowledge and expert opinion. His expertise left no corner of Cornwall or aspect of our heritage and historic environment forgotten. The award reflects his passion for churches and chapels.
The Nick Cahill Award will recognise excellence in design and craftsmanship in restoration or improvement projects involving ecclesiastical buildings. It will consider both exciting design interventions and more modest conservation, restoration or modernisation projects in ecclesiastical buildings and churchyards across all faiths and denominations.
The award has been established will the full support of Mary and Joe Cahill, Nick's wife and son.
The award is open to projects involving ecclesiastical buildings and their setting and associations (graveyards, cemetery buildings, Sunday schools) of all faiths and denominations.  The award criteria will be deliberately wide-ranging, and we will encourage entries across diverse areas of work including, but not exclusively:
Historic fabric restoration or conservation projects involving traditional craftsmanship
Re-ordering schemes, extensions or additions to buildings
Sympathetic conversion of redundant ecclesiastical buildings or spaces
Environmental improvements including renewable energy and habitat creation
Accessibility improvements
Community volunteering, training and skills development in conservation or preservation associated with a specific project benefitting an ecclesiastical building, its setting or associations
Newly commissioned artwork or installations such as stained glass and memorials
Newly commissioned collections such as candlesticks, vestments, sculpture, paintings and furniture
The Judging panel will be overseen by the DAC with the first consideration in April 2022.
Completed entries must be submitted by March 31, 2022 to the DAC Secretary.