Falmouth church to host South Korean First Lady for G7 concert
The First Lady of South Korea will be in Falmouth on Friday to take part in a World Peace Concert as part of the G7.
First Lady Kim Jung-sook will join Chair of Cornwall Council Pauline Giles for the concert which will involve the Cornish Sinfonia and Cornish children's choir. The event will take place at All Saints Church in Falmouth on Friday, June 11 at 2pm.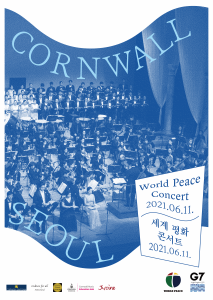 Cornish Sinfonia will be conducted by Michael Reed, principal conductor and the Cornish children's choir will be conducted by Angela Renshaw. The music being performed will be:
Arirang, Fantasy for symphony orchestra, by Choi Song Hwan, (1936-1981). Arirang is a Korean folk song, often considered the anthem of Korea. It bears many other musical and emotional meanings and expressions;
Imagine, by John Lennon, (1940-1980), arranged by Mike Reed, orchestrated by Roy Moore. The world hit known by everybody, the Peace Song par excellence;
Peace Song by Ahn Byong Won, arranged by Seok Soon Kim, orchestrated by Roy Moore, English text by Ju Seong Sug;
Symphony Nr. 3, E falt major, «Eroica», by Ludwig van Beethoven (1770-1827). Beethoven judged this his most important symphony of all the nine he had written.
Concert Project Manager Daniel Kellerhals said: "The fact that leaders of seven powerful countries of the world meet personally, talk to each other, look each other in the eyes, is a promise.
"As musicians and with our music we want to tell them: Do not make mistakes! Harmonies, dissonance, and rhythms are the essence of human life. Life is never without conflicts. Working hard on solving the issues implies harmonious approaches, rhythm means moving forward."
Canon Bill Stuart-White, Parish Priest at All Saints Falmouth, said: "All Saints are delighted to have the opportunity to host this historic concert. The church makes a wonderful venue on account of its light, spaciousness and glorious acoustics. We are pleased and honoured to play a part in the G7 proceedings as part of the Cornwall Council Cultural programme by hosting the concert."