Living in Love & Faith: College of Bishops proposals
You will no doubt have seen the news of the proposals that the College of Bishops will make to General Synod when it meets in February. Like many of you, we were dismayed that this was leaked and apologise for any hurt that receiving the outcome of such a lengthy, prayerful and careful process of discernment so insensitively has caused.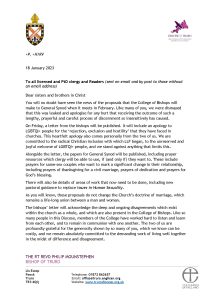 On Friday (January 20), a letter from the bishops will be published. It will include an apology to LGBTQI+ people for the 'rejection, exclusion and hostility' that they have faced in churches. This heartfelt apology also comes personally from the two of us.
We are committed to the radical Christian inclusion with which LLF began, to the unreserved and joyful welcome of LGBTQI+ people, and we stand against anything that limits this.
Alongside the letter, the papers for General Synod will be published, including prayer resources which clergy will be able to use, if (and only if) they want to. These include prayers for same-sex couples who want to mark a significant change in their relationship, including prayers of thanksgiving for a civil marriage, prayers of dedication and prayers for God's blessing.
There will also be details of areas of work that now need to be done, including new pastoral guidance to replace Issues in Human Sexuality.
As you will know, these proposals do not change the Church's doctrine of marriage, which remains a life-long union between a man and woman.
The bishops' letter will acknowledge the deep and ongoing disagreements which exist within the church as a whole, and which are also present in the College of Bishops. Like so many people in this diocese, members of the College have worked hard to listen and learn from each other, and to remain in communion with one another. The two of us are profoundly grateful for the generosity shown by so many of you, which we know can be costly, and we remain absolutely committed to the demanding work of living well together in the midst of difference and disagreement.
We understand very well that the decisions made by the College of Bishops have an impact on the identity, faith and daily life of many people, including people with very different views on questions of marriage and sexuality. We have sought to hold every precious life alongside these very deep differences, and to seek a good and godly future for the Church of England.
We encourage you to read the full letter and the papers for General Synod when they are published and, of course, to continue praying for one another, as we do for you.
If you at any point would like to discuss any of this and particularly if you need any pastoral support, please don't hesitate to be in touch with us.