United in a time of crisis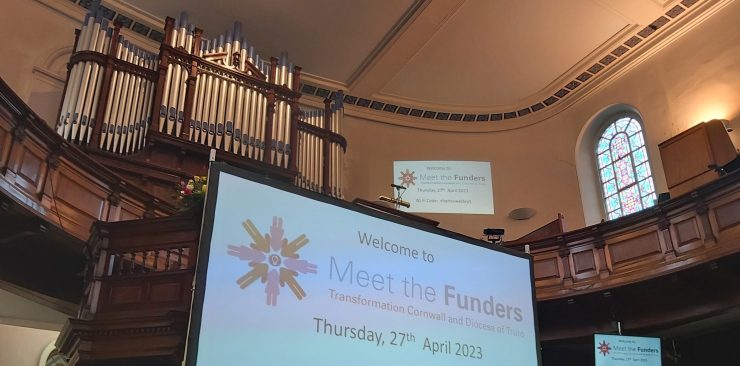 More than 100 delegates converged upon the Truro Methodist Church on Thursday 27th April to attend a special event to bring together regional community organisations with charitable funding bodies. The day-long 'Meet the Funders' event was jointly organised by Transformation Cornwall and the Diocese of Truro.
It was the first time in four years that this annual event was held in person.
"It's so great to be back in person for the first time since the pandemic," said organiser Rebecca Evans. "It's particularly important that we get together like this at a time when the cost-of-living crisis is having such a terrible impact on our communities and on us all."
Manager of Truro Foodbank Simon Fann pointed out that his group is now helping more than 5,500 people. It distributed nine tons of food last month alone. He warned the assembled delegates that 27 per cent of all working people in Cornwall are still paid below the level of the Real Living Wage.
"People are having to decide whether to heat or eat," he said. "We're helping more employed people than ever before. We're feeding teachers nurses, police officers, people who you'd think wouldn't need a foodbank. It's going to be very difficult getting ourselves out of this. Unless we work in partnership, we really are all doomed."
Helen Eustice, who runs the Grace Project, a children's clothes bank based in Wadebridge agreed: "There really is a need, and unfortunately that need is growing."
Pam Reeves from Truro Homeless Action Group added: "Sadly we're still very much needed. The increasing costs of food and energy are making things increasingly difficult."
The event's host the Reverend Mark Dunn-Wilson had opened the day by explaining that the purpose of the 'Meet the Funders' event was to "put people with ideas in touch with people with money". He described it as the initiative's "first post-Covid dating agency".
"We are about transforming people's lives, transforming communities, and creating opportunities for people to experience life in all its fullness," Mark said.
Funders present included representatives of the National Lottery Community Fund, the Co-op Foundation, the Asda Foundation, the Cornwall Community Foundation, the Duchy Health Charity, the National Churches Trust, Cornwall Historic Churches Trust and Cornwall Council's Shared Prosperity and Community Levelling-Up Funds.
Asda community champions Emma Riley, Linda Mooney and Jackie Lavender told the audience at Truro Methodist Church how the supermarket supports grassroots initiatives in Cornwall through grants – from coldwater swimming and sports clubs, to children's play areas and community warm hubs.
"We go where we're needed," Jackie said.
The Co-op's Mark Brown and Heimke Moll also explained how £117 million raised by their own foundation had helped 7 million people across the UK since 2016.
"What I like about our funding is that it's not just about handing over a cheque," added Heimke. "We'll also help to support and promote your project. If a community group wants to work with us, they can get so much more out of it than just the money."
They've even sponsored an overseas trip for a group of about 30 people who meet each week in their local pub to play Monopoly. Many of them had never been abroad before.
Meanwhile, the National Lottery Community Fund's major grants programme has £3 million to distribute in Cornwall this year. Since January, it has already received applications for funding totalling twice that sum. It supports projects which build community relationships and sustainable shared spaces, and which take action to empower people and tackle disadvantage.
One such initiative is the Truro Lighthouse Capital Project, which has received £26,400 towards the initial costs of work to redevelop a church hall for the community of Highertown and Baldhu.
The NLCF's lead funding officer for Cornwall Jenny Fish said: "We like to invest in ideas that matter to people and communities. We use our funding to create stronger communities that look to thrive."
Another regional funding body, the Cornwall Community Foundation, has already distributed more than £1 million so far this year. It awarded 663 grants last year, and has given out £13 million since 2003.
Among other sources, they've received funds from the Integrated Care Board, the National Emergencies Trust, the Goldsmiths' Company and Comic Relief. They use this money to fund local charities, community organisations and social enterprises running projects as diverse as foodbanks and surfing life-savers, and groups preventing antisocial behaviour and supporting wellbeing and mental health.
Its grants and outreach officer Alison Mitchelmore emphasized that the 'Meet the Funders' day was a particularly important event: "The conversations that have come out of it show that people have wonderful projects that need funding. And sometimes they need a bit of help to get that funding. It's really inspiring to hear all their stories."
Since its establishment in 1990, the Duchy Health charity has disbursed more than £9 million in its mission to promote the prevention and relief of sickness in Cornwall. Its patron is His Majesty King Charles III.
"The average wage in Cornwall is still less than £20,000," said its chair, Dr Barbara Vann. "In every school in Cornwall there's at least one child who has never been to the beach. There are so many iterations of poverty and deprivation. Poverty brings about ill health. Ill health brings about poverty."
She described this situation as a vicious circle. It is one which she and other speakers at this key event stressed we must all make our very best efforts to break.