When daffodils begin to peer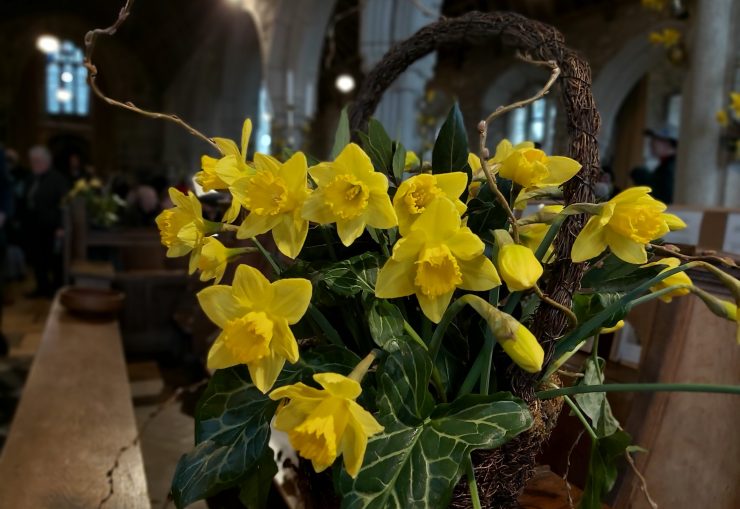 A host of golden daffodils?
No, William Wordsworth's immortal words seem too modest to capture this extraordinary spectacle. This is flower power taken to extremes: these gleaming waves of a saffron sea set, for only a few short days, within a precious gem of ecclesiastical architecture, in a remote and picturesque parish just inland from Cornwall's rugged north Atlantic coast.
The experience can feel slightly overwhelming. Please forgive the florid prose. In short, it's blooming marvellous – this celebration of these glorious flowers whose emergence each year visibly trumpets the coming of the spring.
Humble roots
In the early years of the current century, a lady called Wendy Bailey had happened to be meeting a friend at her local parish church. Her friend was married to a daffodil grower.
"We were standing outside the church looking at the daffodils, and we thought – 'Wouldn't it be wonderful to have a daffodil festival?'" Wendy recalls.
"Lots of churches have flower festivals in the summer, but we thought it would be lovely to do something for the early spring."
The first year they ran the festival, they managed to gather around 5,000 flowers with which to garland the church.
"That was considered incredible at the time," Wendy explains. But these days they bedeck the Church of St Mawgan-in-Meneage with twice that number.
"I can still remember back in 2011 first writing on the display board outside the church that we had 10,000 daffodils," Wendy says.
As Wendy will be the first to admit, it's not always been easy to fit that many blooms, and the growing numbers of visitors, inside the beautiful but compact medieval church, a grade one listed building well worth a visit in its own right.
In its opening years, the festival attracted a few hundred visitors. Within a decade it had topped 1,700.
"A lot in a small medieval church…"
"That's a lot in a small medieval church," Wendy says. "It would be a problem if too many turned up at once, but we've never had to turn anyone away."
This year, even on a drizzling grey Saturday, the second weekend in February, the little church was packed with scores of visitors, all sharing a sense of joyful awe at this splendid sight, a strange mix of happy chattering wonder and profound tranquility, of being at one with history and living nature, with antiquity and rebirth, in this quietly sacred place.
There was a real feeling of reawakening among these time-worn slabs of stone. You could taste it in the air, a petrichor of the soul.
Growing pains
But St Mawgan's minor miracle hasn't come without a cost. A few years back, its founder Wendy herself was obliged to relinquish her hands-on responsibilities for running it when, most inconveniently, she developed a daffodil allergy.
"One particularly cold year, I had all the flowers at home, trying to keep them warm to get them into bloom by the start of the festival," she explains.
Unfortunately, the impact of that concentrated exposure to narcissus pollen wasn't especially conducive to her continuing such close contact with the plants.
So, in 2017, she handed over to churchwarden Lindsay Hockley, who now performs her daffodil duties in collaboration with St Mawgan's other warden, Pauline Arnold.
"A community effort…"
"It's very exciting," Lindsay enthuses. "What we think is so wonderful about it is that it's very much a community effort. It draws on a huge amount of help not only from the village but from other parishes in the benefice."
Local people support all aspects of the festival, even baking cakes, scones and pasties, and making home-made soup, to sustain the many visitors to the site.
"There's a huge amount of involvement from people who aren't what you'd think of as church people," Lindsay says. "The vast majority aren't churchgoers. I find it very moving that so many people want to be involved."
And then, at the end of it all, out in the cold grey world, the world beyond the flower-laden church and its gentle community, beyond the tea and cakes and pasties, we watched with gratitude as this year's bands of latter-day pilgrims drove off home in their hatchbacks and their four-by-fours, away from the crowded makeshift car park beside the neighbouring cattle sheds, holding the promise of spring in their hearts and the peals of the bells of St Mawgan still ringing softly in their ears.