A warm welcome with Wayfarers
With overwhelmingly excellent reviews on TripAdvisor – commending its 'well-manicured' site and 'five-star facilities' – a luxury holiday park isn't perhaps the most obvious location in which you'd think to locate a winter warm space offering soup to the good people of the parish.
But that's precisely what Father Jeff Risbridger of St Hilary Church recently resolved to do.
"I'm very conscious that we spend a lot of time trying to get people into churches, but I'm strongly in favour of being Christians out in the world," Father Jeff explains.
"I was very keen to provide an opportunity for the people in the community to come together and not necessarily into a church. There are after all people who wouldn't want to come into a church. I wanted to partner with a local organisation and set something up in a more neutral space."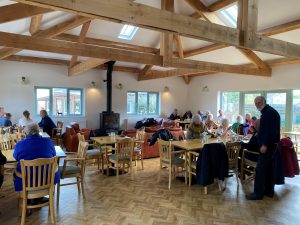 Which is how he came to approach the management of the award-winning Wayfarers Caravan Park and Lodge, based in the heart of the village of St Hilary, five miles to the east of Penzance.
"They have a very nice restaurant open to the public," he says. "I went along and had a chat with them – and they immediately said, 'Fantastic – we want to be seen as a place that's welcoming to the local community.'"
So the collaboration between the parish church and the Flying Duck Bistro began – a partnership which has proven as productive as it was perhaps initially improbable.
Alongside a grant from the Diocese of Truro, the initiative has raised funds from the local community. It also receives free and discounted fresh produce from local suppliers.
"There are people in our community who don't dare turn their heating on because they are so afraid of what it might cost," says Father Jeff. "But when we talk about heating poverty and food poverty – and those are very real things – we should recognise there's also social poverty. We have a mixed bag of people coming along – it's a place that's buzzing with people chatting and supporting each other."
It started by opening for four hours around lunchtime each Wednesday, offering tea, soup, a sandwich and a warm, friendly space to meet new people. They can get up to 50 people coming along each time. It has proven so popular they have also started opening on Fridays.
The site's manager Jean Pooley and Craig Thomas, its owner, make the drinks, soup and sandwiches themselves. Everything is homemade.
Like Father Jeff, Craig sees the project as helping local people combat the effects of social isolation.
The local community and church have come together
"The local community and church have come together to support the vulnerable in a time of crisis and need," he says. "With continued pressures on people with increased cost of living, and the challenges over time of communities becoming isolated, mental illness has reached record levels. We have seen a major positive change in the people who attend. It provides a respite for carers and a chance to unwind knowing that others will keep their love ones safe."
One such participant is Philip, whose wife Janet was diagnosed with Alzheimer's at the age of 70. They have been married for 50 years.
"Little did I realise at the time, the devastating affect it would have on both of us," Philip says. "Loss of memory is the most agonising aspect of Alzheimer's. This dreaded disease destroys not only memory, but also a person's identity. The role of full-time carer during our retirement was not a role I applied for, but a position I was plunged into with absolutely no experience.
"The warm space allows me to enjoy time and conversation with others while still able
to look after Janet."
"The warm space at the Wayfarers' Flying Duck Bistro allows me relative freedom to enjoy time and conversation with others in a totally relaxed atmosphere, while still able to look after Janet. She has responded positively to the atmosphere. It has been very beneficial to me personally, and I thoroughly recommend anyone looking for friendship in a relaxing stress-free space to give it a try."
Although the initiative had originally been limited to Wayfarers' quiet winter months, Craig has now agreed to continue to offer their hospitality on Wednesdays through the rest of the year.
"People have been so taken with the whole thing that they've been asking what will happen at the end of the winter," Father Jeff explains. "Now the people who run the site are keen to keep it going through the summer – as a cool space. The grant continues to the end of the year – so we can continue to fund this all the way through the summer into next winter.
"This is a really good example of the church in the community. I talk about it as a warm space at Wayfarers Park, in association with St Hilary Church. It's not just about the church for many people – it's about the community."