Cross of St Piran nominee Nigel Owen, quietly pitching in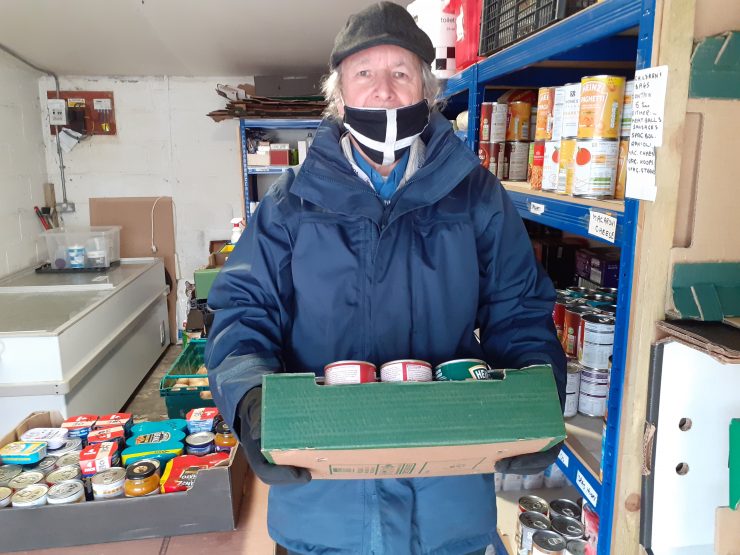 Nigel Owen has been nominated for a Cross of St Piran for his willingness to pitch in and quietly get on with it, especially when that means helping the most vulnerable in our community.
There are many very good reasons why people volunteer at their local foodbank, and for Nigel, former teacher and safeguarding advisor to Cornwall Council, it is largely because of his empathy for the children. "Whatever goes wrong in people's lives, for whatever reason, children become vulnerable. Sadly, too often, and most especially at the moment, they become hungry."
"Whatever goes wrong in people's lives, for whatever reason, children become vulnerable. Sadly, too often, and most especially at the moment, they become hungry."
Working in education for over forty years gives Nigel a unique perspective and motivation
Nigel volunteers for the Churches Together in the Penzance Area (CTIPA). "I'm not sure if people realise, but over 40% of the food we distribute goes to children." Having worked in education for over four decades, Nigel has had a unique perspective on the implications of poverty and crisis on children. "It's a great motivator for me. Children need our help and support to have the childhood they deserve and become the adults they have the potential to be. I am always pleased when we are able to include child-like treats in the food packages."
CTIPA Foodbank operates out of two small rooms and a garage on the Treneere housing estate. They have tremendous support from the residents' association, local businesses and the community. "There is so much kindness. A grandfather came in at Christmas with gift bags he'd made with his grandchildren, a family unloaded a huge car-full of food and supplies they had been collecting. Others come to us with bags of a few tins which are just as precious as the car-loads."
The Biblical imperative to carry each other's burdens
For Nigel, who also chairs CHIN, a Christian helpline in Newlyn, the words of Galatians 6:2 are an imperative: 'Carry each other's burdens, and in this way you will fulfil the law of Christ.' "It's a commandment, to help our neighbours in a practical way. Jesus came for the poor, He didn't assess their level of need, He loved and helped unconditionally."
When people find the courage to come to Foodbank, the team of volunteers try to offer more than just emergency supplies. Working with other agencies, they signpost where and how to get additional help, but that hasn't been so easy during the pandemic. "We have limited our exposure to each other by spreading our 30 or so strong team across the month, so that only two people are together at any one time. But the limited exposure to the people we are trying to help can be a worry," says Nigel. Sadly, the pandemic has made it easy to hide abuse, both domestically and in the context of modern slavery.
The tension between Cornwall's beautiful landscape and locals living with poverty
"People don't imagine things like that happen here. It's hard to equate the natural beauty of the landscape with people who are vulnerable, living with poverty or even abuse." Teaching locally taught Nigel a lot about life in difficult circumstances. "Cornish industries died, replaced by seasonal tourism. It's a difficult trade at the best of times."
And this is the worst of times. A pandemic when visiting Cornwall, even when it was permitted, put a huge strain on the hospitality industry. "The demand for our help has increased by 65% over the year, with no prospect of that decreasing. Many are suffering and none of us can judge," says Nigel. "There but the grace of God…"
"Demand for our help has increased by 65%…many are suffering and none of us can judge. There but for the Grace of God… "
One of the joys for Nigel has been working alongside volunteers who once came for help. "They've walked in the shoes of the people who come to us, they understand, not just emotionally but practically too. They know exactly what to pull off the shelves to give to particular families to meet their particular needs."
A Cross of St Piran  – maybe a Cornish passport too?
Nigel was thrilled to be nominated for the Cross of St Piran. "It's great that it's under the name of St Piran, our patron saint. I came here when I was eleven so cannot claim to be Cornish although after all my years of teaching and living here, I'm thinking of applying for a Cornish passport!"