Journeying, discerning, learning
The Foundations in Christian Ministry Course 2020/21 is open for applications.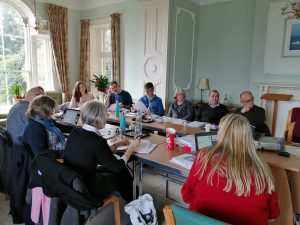 From gathering around fresh-from-the-oven pastries at Epiphany House, to closing reflections with Bishop Philip on Zoom, the participants on the diocese's first ever Foundations in Christian Ministry course have been on quite a journey together over the last year.
Back in September, the cohort of students met for the first time – 16 lay people who serve in their churches up and down Cornwall, drawn together to be equipped and encouraged in their ministries.
Over the seven Saturday sessions the students have engaged in theological study and biblical learning, explored spirituality and 'kingdom living', and gained practical skills in leading small groups and pastoral care. They have discussed, debated, listened, challenged, reflected, journaled, prayed and shared with one another throughout the course, and all have emerged changed in some way.
Participant Anthony White from Probus Church reflects that "it is important to hear points of view beyond the bubble of tradition we may find ourselves in" so as to nurture a growing and deepening faith. On the Foundations Course, he has experienced "discussions [which] are honest and often challenging, but all within a supportive environment."
For some on the course, this year has been the first step on a new vocational journey, listening and discerning what kind of ministry God may be calling them into. There has been time to explore local worship leading, Reader ministry and ordination for those who have felt a nudge that way and it has been exciting to begin those journeys with new friends. For others, like Charlotte Irwin from St Agnes Church, it has been just as important for "equipping us for what we seem to be doing already", and the fruits of a year of study might be instead a fresh confidence and energy in an established ministry.
The next Foundations in Christian Ministry course in the Diocese of Truro runs from September 2020 to June 2021, and applications are invited now from anyone who might be interested. Those who are uncertain may take a word of encouragement from participant Amy Wheeler of the Callington Cluster: "if anyone wants to expand their knowledge of theology, or find their calling in ministry, or get a grounding in study and reflection, this is definitely the course they should do."
For an informal chat, further information or to apply to join the course, contact Sally Piper, Head of Ministry on sally.piper@truro.anglican.org